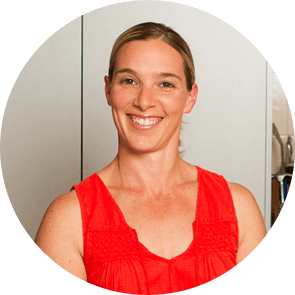 Vicky Kuriel
Position at Eat Play Thrive
Founder and Managing Director
Low carb High Fat' Dietitian
Pilates Instructor
Qualifications
Bachelor of Science
Master of Nutrition and Dietetics
Graduate certificate in Sports Nutrition
Level 4 Pilates Instructor
Experience
Vicky's qualifications and experience cross the spectrum in the health, nutrition and fitness industry. She has 16 years experience in the industry, consulting, presenting, lecturing, training, instructing and writing. First and foremost she is an educator. With a unique ability to impart complex scientific jargon and information so that it is easily understood, practical and realistic to apply.
Vicky is seen as one of the pioneers of Pilates in Australia. She began instructing some 12 years ago, initially for the Victorian Police Force before joining forces with her husband, Joe and opening their own studio/clinic, Eat Play Thrive. Always abreast of new research and developments in the area of fitness, sport and nutrition, Vicky recently completed training in TRX suspension training and qualified as a kettle bell instructor. With subscriptions to various nutrition and dietetic special interest and research groups, she is always up-to-date with the latest and greatest in the industry. Vicky has a personal and professional interest in endurance sports. Having completed many endurance events herself she can relate to the determination and self-motivation required to simply get to the starting line.
Practicing what I preach; I'm passionate about pretty much anything that challenges me physically as well as staying abreast of new and exciting developments in the health, nutrition and fitness industry
Her knowledge and experience in the area of Sports Nutrition can ensure that should you be undertaking an endurance event you are optimally fueled and suitably prepared to perform at your best. Vicky has been contributing articles to various magazines and publications for many years – including Australian Triathlete magazine; Healthy and Heartwise; Johnson and Johnson corporate publication and the Victorian Road Runners, to name but a few. If you are looking for long-term results with a realistic, practical approach to cementing optimal fitness and nutrition habits for a life-time then Vicky has what you're looking for.
Want to give online classes a try?
Intro offer: 2 Weeks for $14
Join us online for our daily LIVE class plus access our library of classes at anytime.