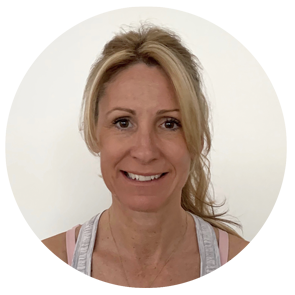 Andrea Natoli
Position at Eat Play Thrive
Qualifications
Certificate IV in Mat & Reformer Pilates 
Experience
Andrea's desire to become a Pilates Instructor was motivated by her lifelong participation and interest in fitness. 
She believes that everybody, regardless of age or gender, should be striving to keep moving and staying healthy – in body and in mind. Her aim is to help clients reach their own level of strength, flexibility and fitness to improve their wellbeing. With a positive and encouraging approach, she's dedicated to working with them to achieve the results they desire. 
In her previous career as a Director of a fashion accessories and homewares importing company, Andrea maintained an energetic and positive lifestyle to ensure she could balance running all aspects of the business, as well as managing a busy home life. She hopes to be able to help clients find the balance in their lives too – enabling them to achieve their fitness goals whilst thriving in their careers and personal lives.
Andrea's classes are interactive, challenging and fun. She'll make sure you walk away feeling energised, proud and motivated to tackle the day!
Mantra: Tackle the Day!
Appointments with Andrea
Pilates One-on-One (Private session)
Private Pilates sessions are dedicated to meeting your individual needs. Andrea will guide you through an individually tailored session and she can be flexible with regards to your timing. These sessions are recommended if you prefer a more private setting, are looking for an individual fitness improvement, you would like to train with your friend or partner; or you have low exercise tolerance. Private sessions are also often a great stepping stone towards joining group sessions at a later stage
Want to give online classes a try?
Intro offer: 2 Weeks for $14
Join us online for our daily LIVE class plus access our library of classes at anytime.