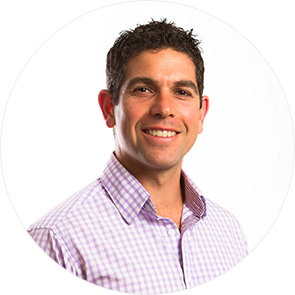 Joe Kuriel has been practicing as a clinical and sports massage therapist, chiropractor, personal trainer and pilates instructor for the past 16 years. His down-to-earth, authentic nature and genuine care for his patients, coupled with his wealth of knowledge in regards to how the body moves, functions and performs ensures that you are in extremely capable hands.
The Eat Play Thrive Massage Difference: What to expect?
---
The massage profession has a large variety of practice philosophies and techniques – this is how we do things at Eat Play Thrive.

1. Initial assessment and consultation
This appointment involves extensive discussion, in particular general background information will be collected and then more specific questions related to your symptoms and/or condition. A thorough exam including general tests such as pulse and reflexes, as well as specific orthopedic and neurological tests are performed. These tests assess range of movement, muscle tone and strength and neurological (nerve) integrity. A posture analysis is often indicated and therefore included. Other diagnostic studies (such as X-rays, CT and MRI scans) are sometimes indicated for a more accurate diagnosis and treatment.

2. Diagnosis and recommendations
Findings from the assessment and consultation will then lead to a specific diagnosis. Once diagnosis is established it will be determined if your symptoms/condition will respond to massage care. Options here therefore include:
Establish a massage treatment plan
Refer to another healthcare professional (we have an extensive network of highly qualified and trusted professionals who we have worked with over the years)

3. The massage treatment plan
The massage therapist will establish specific goals related to your individual requirements. To reach these goals a specific number of massage visits will be recommended. A massage visit involves deep tissue therapy to involved areas. For more acute symptoms, a treatment recommendation of 1 to 2 visits per week for 2 to 4 weeks can be expected. For individuals looking to optimize movement, function and performance, a less intense treatment plan of approximately one treatment per fortnight or per month might be expected. At Eat Play Thrive you can expect a treatment plan to address a number of lifestyle related issues and therefore additional recommendations may include some or all of the following:
Strengthening and stretching exercises to improve muscle balance, strength and coordination
Education to improve posture through repetitive daily activities e.g. at your work station
Other treatments such as chiropractic and nutrition

4. Re-evaluation
A re-evaluation of your symptoms/condition will be conducted at regular intervals to ensure you are responding positively to the treatment protocol. This re-evaluation allows the massage therapist to make adjustments to your treatment plan and re-establish goals.
Massage Therapy Fee Structure
Massage Initial Appointment
Assessment and Massage
Initial assessment and consultation

Initial massage treatment
Massage Treatments
All massages are scheduled for 30-minutes
A 30-minute massage is the perfect gift! Send a friend or loved one a gift card for a 30-minute massage. Click here to conveniently set-up the gift cards to be emailed out on a day that you select!
How easy is that…
Why massage at Eat Play Thrive?
At Eat Play Thrive our philosophy and focus is on lifestyle and optimizing health, not simply the removal of pain. With the massage therapists extensive qualifications and experience in the area of health and fitness, and not just one modality, you will be able to not only become symptom free but you can also expect to receive advice and be guided in regards to positively changing lifestyle habits and creating new avenues for you to be "better than yesterday". So now you know exactly what to expect from massage at Eat Play Thrive your next step is to book an initial assessment and consultation. So click the book now button below or give us a call on 9571 5710 and find out for yourself the amazing benefits of massage care.