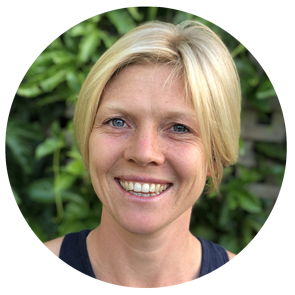 Eva Heraud
Position at Eat Play Thrive
Pilates Practitioner

Movement Physiotherapist
Qualifications
Bachelor of Physiotherapy

Certificate in Womans Health physiotherapy

Certificate in Anatomy in Motion – Biomechanics

Certificate in DMA Pilates, BCPS Pilates, APPI Pilates
Experience
Eva has had a diverse career; since qualifying as a Physiotherapist in 2003 she has gained a depth of experience across public and private healthcare settings, caring for patients of all demographics; from grandparents to elite cyclists to inspiring mums. It is her love and curiosity of how the body moves that enables her to deliver sessions that are detailed, outcome focused, inspiring – and fun.
Eva is particularly interested in and experienced at supporting clients in cycling  and running based endeavours, with pre and post-natal support and complex conditions such as chronic pain; areas she has personal experience in, enabling a depth of understanding. Eva loves to learn, which she happily describes as her healthy (ish) addiction. She as recently gone on to share her learning through teaching Physiotherapist's and Pilates instructors.
Cycling / Running
As a keen cyclist / runner; Eva has applied her love of cycling and running, passion for body mechanics and clinical knowledge. She has seen her cycling and running clients go from strength to strength, improving technique and output.
Chronic Pain
Likewise, having experienced, managed and overcome chronic pain, she truly understands the intricacies of this complex time.
Pre & Post Natal Support
It's Eva's experiences through two pregnancies, and into motherhood of two beautiful children, that has most influenced how she works, and why she's driven to support women through pregnancy and motherhood. Eva passionate believes that you can go into this time of life strong, informed, confident and living your best life. She teaches pre/post natal Pilates to Pilates instructors to share her knowledge and ensure this message is carried far and wide.
Everything Else
Eva believes when you understand how the body moves and can get the body moving as it was designed then you can help any individual achieve their movement dreams. When you can access all of your body and its movements, creating symmetry and efficiency, you really can do anything you set your heart to.
My goal is to get everyone moving better. To optimise your healing and physical performance. At the heart of what I do is you. I want to help you be your best version, with some laughter and fun mixed in for good measure.
Want to give online classes a try?
Intro offer: 2 Weeks for $14
Join us online for our daily LIVE class plus access our library of classes at anytime.