Giving Back
Here at Eat Play Thrive we are dedicated to raising funds for The John Maclean Foundation and over the years a number of other charities too. We'd love for you to join in and support in any way you possibly can!
The John Maclean Foundation
---

The John Maclean Foundation (JMF) exists to change the lives of young Australians who use wheelchairs. Their mission is to inspire, motivate and enable these great kids to chase their dreams. In 2012, after many years of involvement with the charity, Joe and Vicky came up with the concept for an event in which kids would be able to assist kids. This event, "Kids4Kids" is now an annual event that raises thousands of dollars each year for JMF.
More about JMF and our involvement with this foundation over the years…
Eat Play Thrive is a proud and active supporter of the John Maclean Foundation. This is our story of involvement so far… As members of the triathlon community for many years we had always been familiar with the name 'John Maclean'. In triathlon circles John has always been regarded as an inspiration. In 1988 John was tragically hit by a truck whilst out cycling. The impact resulted in John suffering multiple breaks and injuries and left him a paraplegic.
The 2014 JMF Kids4Kids was a massive success with over $35 000 raised to help Aussie kids in wheelchairs. The grant presentations were heart warming. Channel 9's, The Today Show, was there to report on the day.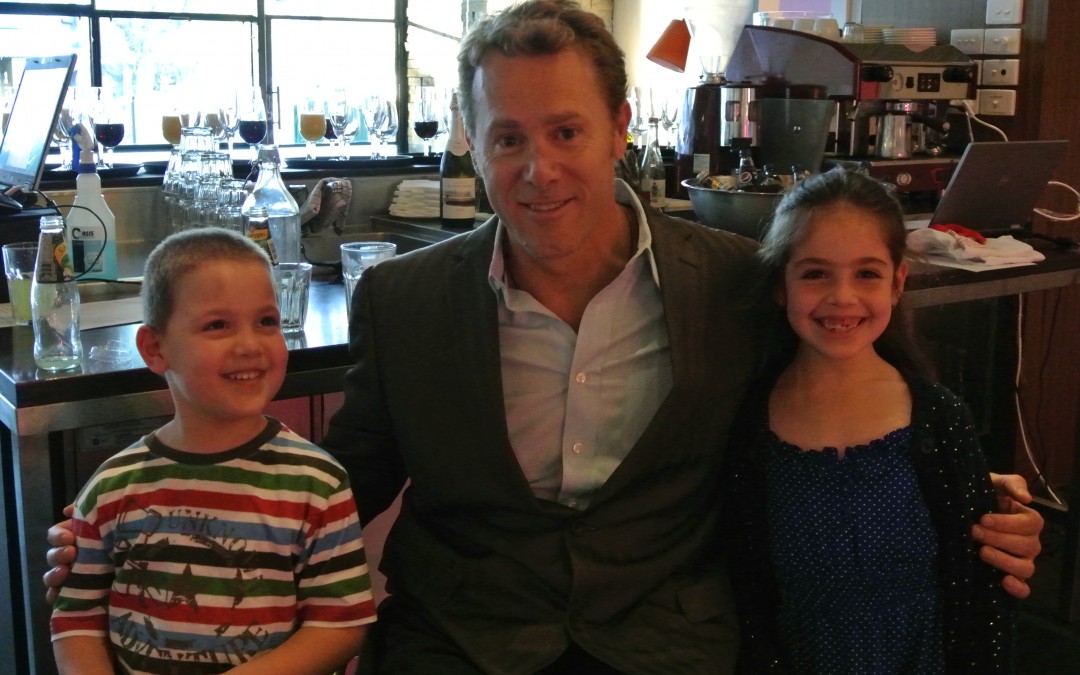 John went on to become the first wheelchair athlete to complete the Hawaii Ironman triathlon and swim the English Channel. He continues to be involved in top-level sports and lives by the phrase "ONLY POSSIBILITIES". His desire was to expand this mantra beyond himself and help many children in Australia who require wheelchairs. The John Maclean Foundation was therefore set-up to recognise and encourage each child's abilities and harness their strengths to achieve extraordinary things. In 2007, only two months after our son, Elijah was born, Joe set off on his first quest to raise money for JMF by cycling with a group of like-minded individuals from Sydney to Melbourne over 7 days. It was during this time that Joe met and became friends with John.
Over the
years
this relationship has continued to grow. In 2012 with our kids a little older (Charli 6 and Elijah 4) we decided it was time to start giving back in our own right. Structuring a fundraiser around an Ironman triathlon was a logical direction for us to head. As crazy as it sounds, it was one evening lying in bed when the idea to get the kids to do the Ironman distance triathlon as a way to raise money for other kids was born. Typically an Ironman is completed over anything from 8-17 hours but since JMF is all about kids we came up with the idea of completing the distance over a 12week period.

So on the 4th March 2012 Charli and Elijah's Ironman journey began and 'Kids4Kids' came alive! Over 12 weeks Charli and Elijah swam 3.8km, rode 180km and ran 42.2km all in an effort to raise money for Troy. Troy was 16 years old at the time and has spastic quadriplegic cerebral palsy. The money raised by the kids was going to purchase a Hi-Lo Electric standing frame, which would make a tremendous difference to Troy's quality of life.
We value the opportunity JMF has given us to encourage kids to be active and to learn the value of helping others. We look forward to growing this charity and the Kids4Kids challenge in the years to come.
Join us for the next JMF Kids 4 Kids Challenge, visit jmfkids4kids.com.au for more information
Other Charities we have been involved with
---
Hands Across The Water
In February 2015, we were fortunate enough to head over to Thailand and spend a week involved with this incredible charity. Hands Across the Water is an Australian charity that gives at-risk Thai children and their communities a helping hand. During the week, Vicky jumped on her bike and over 5 days rode 500km from Bangkok down to Khao Lak. During this time, Joe and our 2 kids spent time at Baan Than Namchai – an orphanage in Khao Lak set-up by Hands. This was truly a life changing experience for all of us. The kids established incredible friendships with kids within in the orphanage, our hearts were warmed beyond what we ever could have imagined and we all learnt lessons of appreciation and respect that would be difficult to teach in our day-to-day lives here in Melbourne, Australia. We hope to head back to the orphanage and visit our friends and contribute to Hands once again in the not to distant future. Read more about how you could get involved with Hands Across The Water here.