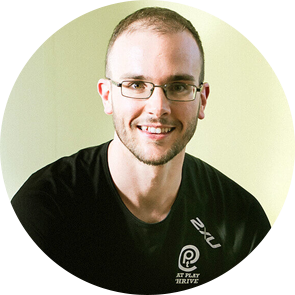 Andrew Firth
Position at Eat Play Thrive
Qualifications
Diploma of professional Pilates Instruction
Accredited Dancesport Coach
Certificate of Advanced Pranic Healing and Pranic Psychotherapy
Experience
Andrew's athletic background is diverse, spanning from an international career in dance through to more power-based sports such as track and field, basketball and tennis. It is through his ballroom dancing, however, that Andrew first discovered the Pilates Method.
There comes a point in a dancer's life where their body must meet certain requirements, or else they find their career blocked from further progression. For too long it seemed that the incredible strength, flexibility and posture required of a dancer were unachievable for Andrew, at the time a twenty-something year old male who had long since finished growing. Thankfully, Pilates opened his eyes to a whole new world of possibilities and in less than twelve months he was not only meeting the gruelling physical demands of dance, but he had decided Pilates was to become the next step in his professional life.
Several years on, Andrew is now an accomplished Pilates Instructor with a diverse teaching background. He has experience in many unique teaching environments and has worked with a variety of clientele, all of whom had their own specific goals and ambitions. An expert in postural alignment and body mechanics, Andrew is right at home when assessing a body's weaknesses and coordinating specialised movements that will bring about renewed strength, balance, and freedom.
Initially trained in the Traditional Pilates Method (as first taught by Joseph Pilates himself), Andrew's professional experience has involved work in fitness-focused studios as well as clinical facilities. He has worked hand-in- hand with health practitioners such as Physiotherapists, Myotherapists, Osteopaths and Chiropractors, and yet he is also able to deliver gruelling workouts more akin to personal training.
There is sometimes confusion within the industry surrounding Pilates and the varied uses to which it is applied. Marketing terms such as "Clinical Pilates" are often thrown about, and the distinctions between this, "Traditional Pilates," and "Fitness Pilates," are often misunderstood. In truth each of these disciplines makes use of similar Pilates exercises, but it is the guiding philosophy of the instructor/practitioner that varies, as described below.
Traditional Pilates – A highly focused and holistic whole-body workout, designed to address every muscle group and range of movement.
Clinical Pilates – A movement-biased workout designed to re-educate a dysfunctional body, often used in injury rehabilitation.
Fitness Pilates – A workout that combines the muscular focus of Traditional Pilates with the intensity and cardio aspects of personal training
Andrew is one of the rare individuals in the industry skilled in the teaching of each Pilates Method, and he can tailor his workouts according to the client's needs. That said, his specialty and personal interest falls somewhere around the "Traditional Pilates" mark, perhaps a little off to the "Clinical Pilates" side. Andrew describes himself as an educator rather than an instructor, and his passion lies in transforming a person's quality of life through movement.
Andrew teaches a number of Pilates classes and is available for One-on-One Pilates sessions by appointment.
Want to give classes a try?
Intro offer: 5 classes for $50 (Valid 2-weeks)
"Discover the magic that the Eat Play Thrive community can inject into your life.